It has been grateful to see the film Tintín, The Secret of the Unicorn that until this week was released in this Central American context.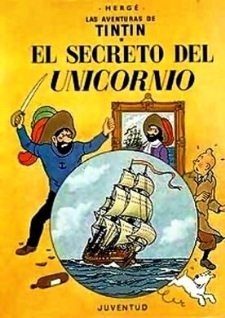 Although it is a personage of the European comic, whose first copies left in years 30 in Le Petit Vingtième, I remember reading it when I was in school, in a forgotten town of civilization where a sweet librarian made the exception and let us take the books home for the whole vacation. I have no idea how they got there, but I remember reading and re-reading them with my brothers until they almost knew them by heart, those stories that remain in our memories and come back every day that the spirit wants to feel like a child again ...
There were all the episodes and I never saw them again until a couple of years ago I stumbled across a shop in Amsterdam, it was impossible to resist the temptation. On the way back we chewed them with my children until exhaustion, so when they announced the movie they were harassing the date and regretting why the premiere was not simultaneous in all countries. My brother wanted to communicate on Facebook when he saw the ad on TV, but they told him that it was somewhat outdated and that it had already been released in other countries.
So today, after returning to the city that does have movies, with Nachos stuffed with cheese and popcorn we enjoyed a great afternoon, the last day of the holiday that I had. When I told my girl that the first issue came out on 1930, she laughed, recognizing the fashion of the ghettos and the irony of the plume on the now fashionable forehead.
The adaptation has made many changes, I suppose to make the script more extensive and exciting. It was then that I knew that my boys knew the story of memory after they interrupted every moment:
In the book Hernandez and Fernandez buy sticks and steal their wallets ...
They do not mention the bird brothers ...
It was never learned that the other buyer of the boat was a researcher ...
This is not how they catch the pickpocket ...
Of course, it is not as comic, but the plot is well adapted; as they do not lock Tintin in a house but on the ship where he meets Captain Haddock. Very good the scenario of the Captain looking for the coordinates with a sextant in hand, not so in the comic, rather the coordinates are the site of sinking of the boat.
Well, good afternoon.
The holiday was over,

It's good to be back.
I leave some photos ... the seafood soup, the beach of Amapala and the Historic Center.