I have just begun to see this model, at the end of the month I hope to do a formal training so that the technicians are Evangelize in its news.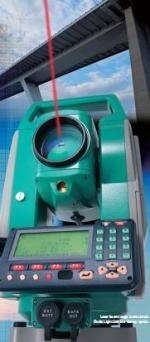 Until now we had been using the Set520K, Of which I had spoken before.
We will give the workshop at the end of May 2010, either in Honduras or El Salvador. If someone is in the environment and wants to sign up, they will be welcome.

If you can not for that date, it is not too much to leave the message, because we plan to do another one later.
What does r mean
I came from reflectorless, which means you can take readings like an EDM and not compulsorily using a prism. This is very practical, because in a well-planned job it is possible to save one of the chain workers, I'm not saying both because someone has to help us load the tripod. In a Cadastral survey Urban or engineering project, being able to bounce on existing objects is a great advantage.
What does K mean?
Is keyboard, or what is called an extended keyboard. That letter is carried by all those computers that the keyboard apart from the basic function keys already include the additional panel of numbers and that also serve to enter letters. Sure, this Set 630RK only has a keyboard on one side, unlike the 520K, although the techies tell me they don't see much of an advantage to the double keyboard unless they are training.
The variants of this model are:
Set230RK3
Set330RK3
Set530RK3
Set230RK
Set330RK
Set530RK
Set630RK
The difference between the first group and the second (among others) is 3, which means a 3R laser with which you can obtain up to 350 meters without a prism and up to 800 with a miniprism. While the other is a class 2 laser, reflectance of up to 200 meters nothing more. This is significant to improve the accuracy, capture time in fast mode, although for that I recommend taking a look at the comparative table Of total stations I showed them the other time.
This equipment (Series 3) is said to be more robust at the hardware level, although the improvements at the software level are more noticeable, especially in the distance meter. The laser has a finer pointer, to the point of being able to take points with precision such as the edge of a beam, the corner of a wall, even having obstacles in front such as a wire mesh or a bush. The following iconography shows functionalities that this equipment brings, of which I will explain at least two:
Offset with two points, see that in the case of taking a point in a corner of a house (C), the inclined cane can be placed, indicate that we will take offset with two points (A and B) and enter the distance that these two points have that we know from the walking stick. Thus, the equipment detects where point C.
Area calculation, this equipment can with up to 50 3D coordinates, calculate the area. This is interesting, in case of radial measurements or when we want to have an idea of ​​the area taken before coming to the cabinet to Download And draw the polygon.
Price:
That will depend on the local distributor, as a reference I have consulted Froogle, and the value that appears to me is close to US $ 7,000. But when I click on the link I get a higher value, not including accessories.
Sokkia has its distributors in each country, but with the boom in online sales, exclusivity is fading. In my opinion, with two poles, two prisms and a tripod, debería To walk there, put at the airport. To this we will have to add the customs clearance costs (perhaps about $ 150) and the sales tax, depending on the country.
Buying it online with an unauthorized dealer, paying shipping costs, and so on is not so practical. It ends up being more expensive and the warranty is complicated. Used equipment is a lottery that usually ends badly.
A local dealer is supposed to be in that price range, maybe up to $ 8,000. In case of being exclusive, their prices will be higher because they have no competition. For that there is (Well, there are not many but there are) Distributors that sell at regional level, outside their countries where they have representation, with all the guarantees of law and much more competitive prices.
A manual of Use of this total station Was worked by Leopoldo Hernández and his team.