JoeSonic tells us about the train system from Switzerland, which by means of a signal sent by a GPS shows the location of the trains in real time, updated every second ... and this is not exactly a deer.
Interesting, because you can see each of the trains moving on a Google Maps display, when they are about to arrive at a station it flashes to indicate that it is going to stop.
When you hover your mouse over this you can see the speed it carries and what is the next station.
Clicking on the train displays a panel that shows the updated coordinate every second, and the stations through which it will pass with its arrival time and departure time.
Clicking on the "follow" button makes a closer approach and the map moves keeping the train location at the same point; and it is also supposed to show something of what you would see if you were inside the train.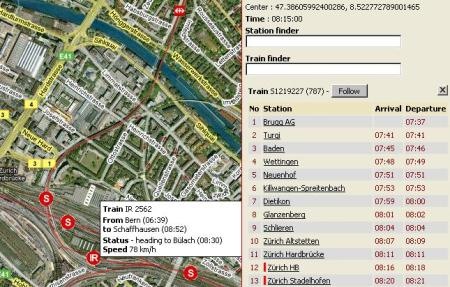 Very good development, and although it is to the test ... who knows that more is added so it is best to keep it among the favorites because they may surprise us or inspire us.