Some time ago I had seen it the official blog from Google Earth, but now that Opaque It has reminded me, I have taken a few minutes to see how it works. I am referring to the old maps of the Rumsey collection displayed on Google Maps or Google Earth.
This example shows the 1710 map of the Iberian Peninsula, Spain divided by Castile and Aragon. Portugal also appears.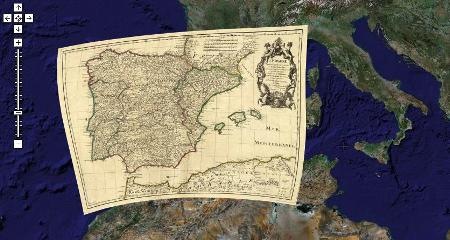 Collection David Rumsey It started about 20 years ago, with a primary focus on the cartography of the Americas of the 18th and 19th centuries (I will use this nomenclature that the Roman numerals make me gray when I read them) but it also contains world maps, of Asia, Africa, Europe and Oceania . The collection that to date includes around 150,000 maps includes atlases, spheres, school maps, books, nautical charts and a variety of maps that include pocket maps, wall maps, children's maps and others made by hand.
Digitization began around 1997. In this way it was possible to have this type of valuable documents with high resolution, because if you remember, previously the maps were containing a lot of detail, now everything is in the database and for different purposes those are represented results graphically.
Of course, one of the objectives was always to serve them on the web, and better than to see them in the services of
maps popularized worldwide, such as Google Maps and Google Earth, toys that Changed the way we see the world.
In this map you can see the index of different existing maps, and in the case of world maps they are in the middle of the Atlantic Ocean. Zooming in displays the year of the product.
Once you have clicked on the symbol, you can see the general information of the map, a link to see all the information related to both the original map and the digitized map and another link to see it displayed, which activates some bars with which you can control transparency. Look at this 1842 Brazil.
To see them in Google Earth just go down This kmz Which links them and allows them to be displayed.
See this map of Colombia from 1840 when it still included Ecuador, Venezuela and part of Peru.
And that tells me of this of Argentina of 1867, this map shows Native American tribes in the middle of Century 19
It really is a valuable collaboration with the dissemination of that cartographic collection. Here you can see the complete collection
And this is a list of some of the most significant maps