Let's assume that we want to export points from CAD format, to a comma separated list so as to upload to a total station and do a site stakeout. Previously we had seen how to import them from excel or txt With AutoCAD y With Microstation, Now let's see how to export them.
There are different ways to do it, such as counting the cows, you can count the legs and divide them by four or you can just count the cows. Let's look at some ways:
1 Doing it with Microstation (dgn to txt)
In the example, I have a plot that has five vertices, and I need to export the coordinates to a txt file.
For this, I have put the points in a thickness that are visible. Remember that line weights in Microstation are dynamic, so they are immediately noticeable.
First step: Activate the coordinate export tool (if it is not active), for this we select
tools
Tool boxes
We activate the last command (xyz)
Then we closed the panel and should have been activated this way
Second step: Select the points we want to export, then select the "export coordinates" command, which is the up arrow, and fill in the conditions:
-Data file
-File name
-Order of coordinates
- Primary units
-Decimals
-Separator
-View
-Prefix / suffix
- Initial number
The panel allows you to choose the options, if only the selected drawings (single), the drawings inside a fence or all the file (all)
The end result is a .txt file that you can open from excel.
In my case I have assigned number, marking the checkbox that is on the right
In case the file already exists a window that asks if you want to replace or add (add or append) is displayed.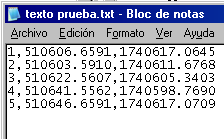 To identify which are the points, microstation draws you numbers in each point, with the color, type of line and size of text that you have active.
2 Doing it with AutoCAD
Before knowing CivilCAD (Softdesk) we used a DOS application that is still there called Dxf2csv. You can try it if you like to torture yourself with nostalgia, 🙂 there are also some apps"not free", and I'm sure there must be some free but in this case we will see how it is done with Softdesk8, it is similar in CivilCAD.
In order to make the points visible, I have changed the format with format/format point/ point style. In order for the thickness of the lines to be visible, you have to activate "Lts", using a value less than 1 until we see the difference.
First step: Open a project or create a new project
AEC
Softdesk programs (save file first time)
Create project
Assign project name, then ok
We choose the number where the numbering begins
Ok ok, ok then
we choose "cogo", then ok
Second step: Enter the points to the database: for this, there are different forms, in this case we will do it automatically: Points / set points / automatic, then select each line of the polygon.
The signal that were entered is to make points / set points / list avaible points. It should show +6, which means there are already 5 points entered into the database.
Third step: Export the points.
To export the points we do:
-points / import-export points / export points to file
- Select the export format, in this case PNE (point, northing, easting)
-We choose the destination folder of the file and write the name
-In the command bar we choose the export options (by selection, by rank ... in this case we use all, all)
-List, the file has gone, in this case separated by expacios but equal can be opened with excel
In case the points are written in too large sizes, you have to change the metric units because by default come the English (AEC / setup drawing / unit angles / choose métric)

This time the points did not have elevation, that subject we will see in another post, when we speak of curves of level.
Tolerate my insistence, does anyone know a macro for atocad that is simpler and free?
Does anyone else do it?