In the previous post we had shown an Excel sheet to convert coordinates Geographic to UTM From a sheet that had popularized Gabriel Ortiz.
Let's see now this tool that does the same process in reverse, that is, having coordinates in UTM format (Universal Traverso de Mercator) and knowing the area, transform them to latitudes and geographical longitudes.
Let's start familiarizing ourselves with this: according to Google Earth, the coordinates of the Palace of Sports in DF would be X = 489513.59, Y = 2,145,667.38 considering that Google Earth uses WGS84 datum. (for what you do not know, to see UTM coordinates you only go to tools / options / vista3D / show lat / long)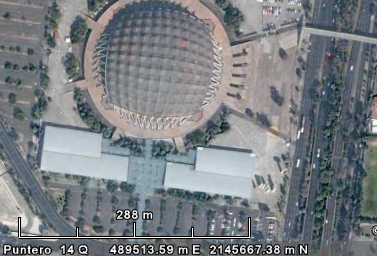 In geographical coordinates, this would be Long= -8 ° -5 '-59 " , lat= 19 ° 24 ' 18 ", (to display the grid in google Earth, do "view/grid")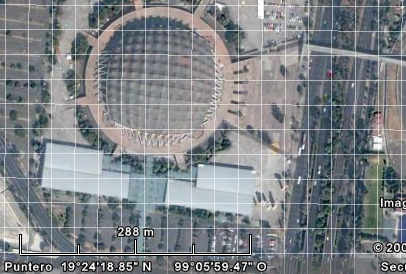 I recommend that you familiarize yourself with this form of verification and understanding How the UTM coordinates work To get the most out of the tool in Excel.
I've done This sheet that would be very useful to a friend who some time ago was looking to send to Google Earth some data that were in UTM.
1. How to enter data
The fields in yellow pick up the XY coordinates, and also the zone, with this one must be careful enough because Mexico to give an example, the zones go from the 16 to the 21 so that the same coordinates can be in different zones.
The same happens with the hemisphere, as is the case of Colombia, Ecuador and Brazil that have areas in both the northern and southern hemispheres.
Also in the upper part is the reference spheroid with which the UTM coordinates were generated, this is not for the output coordinates but rather for the input coordinates.
2. The output results
The columns in green are the geographical coordinates, the coordinates in the east of the Greenwich meridian will be positive, those in the west will be negative.
3 How to send them to Google Earth
We had already seen some ways to send an Excel file to Google Earth, both geographically and UTM, so take a look, if you want to send the UTM coordinates to AutoCAD, This Excel template allows you to do it.
Here you can download the template to convert UTM coordinates to Geographic.
You can buy it with credit card.
It is symbolic if one considers the utility it provides and the ease with which it can be acquired.
---
Learn how to make this and other templates in the Excel-CAD-GIS cheat course.
---