Some time ago we show an archaic way as it was possible to connect to OGC services using Microstation, I remember that Keith told me that the next version would have these capabilities.
Connect
To access, it is always done through the raster manager that now, in addition to adding a raster file and image service, the web map service (WMS) option appears. For this it is not necessary Bentley Map, it is already included in Microstation, yes, it must be V8i Or as it is called v8.11.
Load layer
Last time explained How the services of images worked so now we will only see how to load the wms.
When selecting the option appears a panel where the service url is chosen, so any data service published with OGC standards via wms can be consulted.
In this case, see that it is even possible to connect to the services Posted by Manifold GIS via wms, which in this case can be accessed via localhost.
Once the service has been chosen, the system consults which layers are desired, the order, style and opacity options. On the right there is a panel of general settings, including the projection in which the layer is, image format, transparency, range, among others. there is also a tab to preview, which is very practical.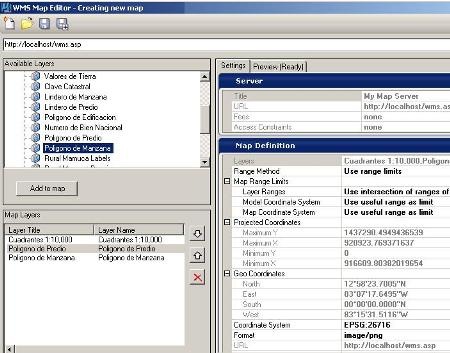 Save layer
then the file can be saved with the extension xwms and later it can be called.
A bit late but finally this came to Microstation, this same functionality before we saw it done with manifold, GvSIG, Google Earth.
WFS?
I do not think so