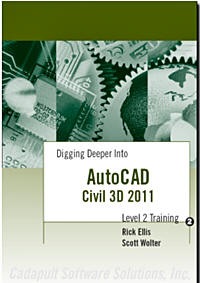 Recently Cadapult announced the publication of its new edition:
Digging Deeper Into AutoCAD Civil 3D 2011

416 pages organized in 7 chapters and a CD that includes the exercises developed in each section, under the guidance of Rick Ellis. In short, a great acquisition for anyone who wants to learn Civil 3D well and increase their repertoire of reference documents.
A great book, which adds to the list of manuals of AutoDesk that this company has been developing in the field of Geospatial, specifically AutoCAD Map 3D, Land Desktop and Civil 3D.
It would be a waste of this post, if I do not take the opportunity to promote a series of free tutorials that Cadapult has available on its page. Most of them are brief tips that arise from the courses they teach and that while they serve to demonstrate the quality of their services, complement the collective knowledge that now implies saying how we did it to learn more.
Of the best, the tips to improve the performance of Civil 3D, among which mention the purging of unused styles, the optimization of labeling styles and the use of Clip boundaries On surfaces.
Here is a short list, although it is broader in each section. It is in English, for the purposes of this article I am showing the list translated into Spanish, so that you can go there and see it with your own eyes.
AutoDesk Civil 3D tutorials
Improve the performance of Civil 3D
Use Mr. Sid files with Civil 3D
Exaggerate height Z on surfaces
Should we use the Ribbon?
Create surfaces from 3D faces or 3D lines
Management of Civil 3D styles using Drag-and-Drop
Automatic popup in dot symbology
Land Desktop Tutorials
Sections of cut in dynamic form
El Object Viewer Vs. 3D Orbit
Using formulas in labels By Land Desktop
Convert a Land Desktop project from feet to meters
Construct a surface from 3D faces
Working cross-sections
AutoCAD Tutorials
List blocks using BCOUNT
AutoCAD Block Attributes Tricks
Bring Excel sheets to AutoCAD
Digital signatures in AutoCAD
Printing with layouts
AutoCAD Map 3D tutorials
Access from AutoCAD Map to an ESRI geodatabase
Export data to dbf files
Join polylines with AutoCAD Map
Move, scale and rotate in one step
Thematic maps with AutoCAD Map
AutoDesk or ESRI Which mapping products are better?
Accuracy Vrs. Precision
Go to the Cadapult tutorials
Subscribe to the news