We have all been impressed when we travel, and in search of maps of the city we find this kind of work we take home to feed the collection of something that more than maps constitute true works of art.
The linking of databases to maps has meant that the mapping process has less artistic implications every day. In part, because the tendency is to simplify, and also by inescapable consequence that the map is now only a thematic representation of attributes, something that was previously not possible and that punished maps with large amounts of data often stacked and outside of taste.
In spite of what technologies now do with the automated thematic taste it is almost impossible to achieve the artistic level that is achieved with the so-called perceptive maps of the landscape, which include and violate the perspective with a rhythm of almost musical exaggeration.
As sample, I leave some examples of the catalog of Juan Núñez Girado.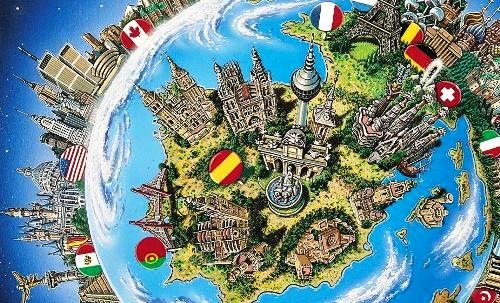 This only reminds me of a narcissistic joke we did with a great friend from Gijon who did an internship for my office:
"All the gold was taken away, nothing left ..."

"But we have left you a language and you have shattered it."
The portfolio is mounted on Flash, out of some whims to select the left menu and an exasperating background music, it is possible to visualize a lower headband that raises examples of the works. Some finished, others half showing the process or partial objects of the stage with a level of detail that allows to see the artistic quality. There is also a button to display them in full screen and rotating automatically.
These are two examples, which I have cut by matters of detail and space. When you see each window of the buildings and the type of perspective applied it is impossible to stop wondering how they will do it.
There are some jobs in Panama, although the majority are from Spain; some already include a mixture of web cartography and classic illustration.
It is exciting the level of automation we have achieved in cartography, how much we can do from a mobile, approach, measure, update, interact with virtualized worlds; The most impressive thing is that we know that every 12 months will be exceeded. But this is one of those parts of the romance of cartography that, however optimized our routines will be, it will be impossible to overcome in taste, although we will do it in usability.
In short, these are very good works, that although one day they will end up as museum pieces, for now they are still useful in their illustrative, promotional, tourist, visual role. For everything else there is Google Maps.
Go to the gallery of Juan Núñez.
Expanded by Geofumadas | after a Cartotalk link | linked in a spark of Alpoma | with the perverse intention of prolonging the ephemeral of an RT | Without this prohibiting a cordial retuiteo ...