The intrinsic geolocation in almost everything we do, using electronic devices, has made the GIS issue more urgent to apply every day. 30 years ago, talking about a coordinate, a route or a map was a circumstantial matter. Used only by cartography specialists or tourists who could not do without a map during a trip.
Today, people consult maps from their mobile devices, tag places from social networks, collaborate by mapping without knowing it, and insert a spatial context in an article. And all of this is good for the GIS sector. Although the challenge is still complex, since it continues to be a discipline in which many sciences intervene, all of them with complexities from heaven to hell.
The time will come when using geographic information will become routine. And I'm not talking about showing a map, but about calling layers, theming, creating a buffer, modeling a 3D environment. For that, it will be necessary to separate the specialty of usability, as well as using a mobile phone today; nobody occupies being a specialist in all the disciplines involved in its elaboration. Meanwhile, it is necessary to learn from GIS. More than using a tool, understand the fundamentals of the flow of cartographic data, from its production to its availability to the user who will provide feedback.
It is a pleasure for me to present the series of educational videos about the Geographic Information Systems series. Ideal for those who want to understand the fundamentals, principles, applications and trends of GIS, developed in 30 videos compressed to graphic segments no longer than 5 minutes.
General characteristics of GIS
Geographic information systems
Applications of Geography in GIS
Use case: The Tax Cadastre
Use case: Land administration
Use case: Territorial Planning
Use Case: Risk Management
General concepts of geography applicable to GIS
General concepts of geography: reference systems
General concepts of geography: coordinate systems
General concepts of geography: modeled representation
General concepts of geography: Basic elements of a map
Phases of the cartographic process
Technical aspects for the use of GIS
Aspects of precision and quality
Differences between CAD and GIS
Field data capture: measurement methods
The use of GPS to capture georeferenced information
Aerial photographs and satellite images applicable to GIS
Aerial photographs
Photo interpretation of images
The use of remote sensors for satellite imagery
Applications on remote sensors
Technological Development for the use of GIS
The publication of data on the Internet
The management of spatial databases
Spatial data viewers
The Challenges of Geomatics Professionals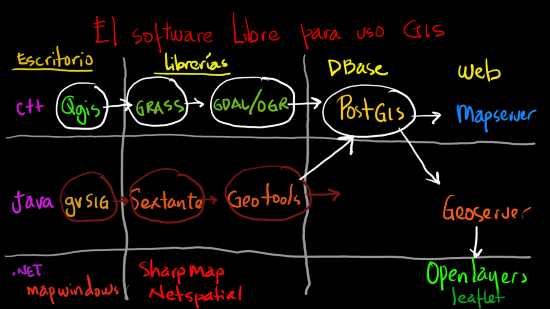 The work of GIS professionals
Digitization of information
The scope of technological developments
The gradual application of technologies in GIS
The proprietary GIS software
Free software for GIS use
Thematic analysis of maps
The use of standards in GIS
Being available for free, we welcome Educatina.com and your team. For having a common thread that abuses the obvious, reiterates in common sense and shows off his graphic ability ... the author.