Compared to ArcMap Legacy versions, ArcGIS Pro is a more intuitive and interactive application, simplifies processes, visualizations, and adapts to the user through its customizable interface; you can choose the theme, module layout, extensions, and you should not worry about uninstalling previously when there is a new update.
What else can we expect from ArcGIS Pro?
First, its construction based on 64 bits, includes applications such as ArcCatalog, ArcGlobe o ArcScene, allowing you to browse simultaneously in the 2D and 3D views, you can store in a single project.aprx Multiple maps, layouts, databases, toolboxes and styles.
At the efficiency level, you can run several processes at once, and use the workflows that will make your life easier, however, from the 928 tools. ArcMap, As of the date of construction of this article, only 723 is found in Pro. It is expected that in the final version of 2018 all functionalities will be integrated, including Parcel Fabric that is now called Land Records
The speed of movement between views is faster and more dynamic, which is a relief. If we go back and remember how it works ArcMap, we had to use the right button and the properties menus of the data were displayed, be it vector layer, raster etc. in the case of ArcGIS Pro, processes such as: tagging, or symbology are simpler, thanks to the style menu ribbon o tape, that is friendly, contextual and orderly: style that we are already accustomed to by users of AutoCAD or Microsoft Office.
ArcGIS Pro features that you should keep in mind:
In order to obtain licenses for the use of Pro, we must be registered with an organization, which allows us to have a closer relationship with the user. The types of licenses are the same as those found in ArcMap, Basic, Standard and Advanced. This GIS can be used both online, connected to the network of your organization, or you can work offline, ie disconnecting the license, or if you do not have an Internet connection you can also license your ArcGis Pro, without any inconvenience.
When you start you can see the ArcCatalog panel, where you can find the menus where the tools you have used are hosted. In maps you can see all the views that you have inside the project, in the toolbox or toolboxes you will see the functions that we have used to create the map (s), in styles all the appearances or simbologías are located, as much of the maps 3D as of the 2D, in Databases the geodatabases that we have created are located, or include any that are needed for our project.
In this panel we also have, locators for tables, geocoding, connections to all types of servers etc. What is the advantage of this? That when opening the project .aprx you have stored all the data, and you can open your project from any computer thanks to its license models, an issue that does not happen with the .mxd they are hosted on a single machine and from there you must work them. As for the symbology, you can see the same elements that are in Arcmap except for an exception that is: create heat maps, this option is super fast and does not require running no type of tool to generate the data.
One of the things more great is that you do not need to turn on and off editing every time you make a change, which was required to perform in Arcmap,
In the content panel, where the layers are observed, they added a new graphics application or charts, that will help you when generating the necessary analysis, but, if you want something more visual, such as to be presented you can use the infographics tool.
Depending on the selected layer, it opens a few tabs on the ribbon where you can access the full range of options. From appearance, labeling and other functions like the one we found in extensions like Xtools Pro.
It integrates improved functionalities for imagery, you can connect to free servers and get your images, or use any that you have previously downloaded, you have the option to create value-added products in one click, such as orthorectifications, point clouds, NDVI, heat maps, classifications etc, and if you do not like any functionality, develop yours and share them with other users, it's something that uses Qgis for example, where you can develop add-ons (plugins) or install one created by another colleague.

For geologists, geophysicists and other geoscientists, ArcGis Pro integrates a Geosoft add-on that you can perform your processes like, convert formats .grd to ESRI to perform analyzes, import rasters without geographic data (georeferenced) from the depths of the surface and visualize them in 3D with their exact location, apply symbologies or standardized color palettes for your products, among other functions that will be of help. Do not forget to download it, as it is completely free: https://www.geosoft.com/products/add-in-for-arcgis-pro

The novelty of this sophisticated GIS is its integration with the web gis, connecting with ArcGIS Online, that allows you to: publish your maps, functions, geoprocessing or templates and review those of others, obtain credits to store data, access other Premium content, download and use applications from the browser and / or mobile devices, among others.

When you finish your projects you can create project packages or Package Project, with other members of your organization, you can update it as many times as necessary, since the modification date of each package is associated and your colleagues can download the version of the project they need. If you are not sure what each tool is for, Place the cursor over the button and it will show you the basics of its functions.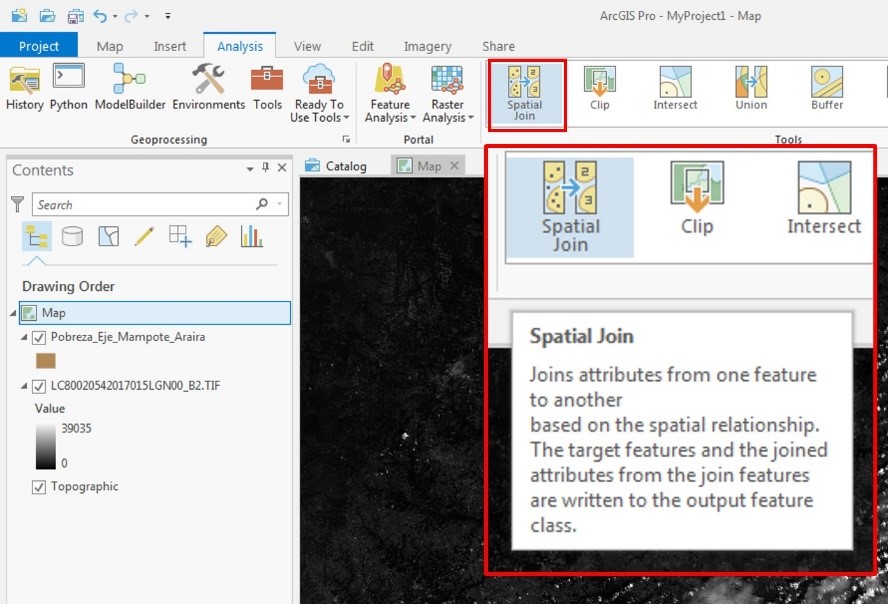 The scripts and tools that have been created can be used in ArcGIS Pro, with some exceptions and modifications, since Pro uses Phyton 3.5 and ArcMap uses the 2.7 version. The Phyton tool can be located in the Analysis menu.

ESRI already confirmed that Pro will replace ArcMap, will be emphasized in the improvements and updates of Pro, since as we know the architecture of ArcMap is of 32 bits which makes it impossible to introduce important updates, but also can live together for a while, at least until the 2022, while you get used to it you can continue working on your projects. mxd from ArcMap, .3dd from ArcGlobe and .sxd from ArcScene in Pro.

Installing ArcGIS Pro
If you want to install ArcGIS Pro, you should follow these simple steps:
1 You must create an ESRI account to later license the product, you will find a form to start testing your trial version for 21 days.
2 Log in to your My Esri account and configure your organization, this is important, since when you open the application your email and data associated with ESRI will appear.
3 Locate the button to download your trial version from My Esri, http://my.esri.com, it is compatible with Windows 7, 8 and 8.1. check the system requirements so you can run well on your PC.
4 After you run the installer, log in to esri.com, go to the Manage Licenses tab and choose the option to configure licenses, be sure to activate the extensions and indicate ASSIGN.
5 Your license has been configured and you can now run the application.
6 They will ask for your ESRI credentials and that's it! You can use ArcGIS Pro.