This article reflects the statistics taken from January to October of 2011 from Google Analytics, and simplified in the event that only 100 readers of this page. It is clear that it is the reflection of the Hispanic context, which would be very different if the page had a priority in another language or public. But if the data can be useful for marketing purposes, here they go.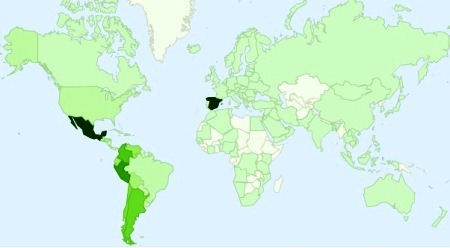 Before I did an analysis of 100 cities of 10 countries, the most curious behavior is that of Mexico that now surpasses Spain, a subject that was to be assumed, as in terms of population there is a notable difference, although not in connectivity. There is also a noticeable decline in the English-speaking public, partly because Get well More searches of the Anglo-Saxon environment represented by the United States, United Kingdom, Australia and India.
This would be the behavior per country.
21 Mexicans
20 Spanish
11 Peruvians
8 Colombians
7 Argentinos
7 Chileans
4 Venezuelans
4 Ecuadorians
3 Bolivianos
3 Hondurans
12 would come from other countries
If the measurement were by cities:
The behavior is quite different, because although 8 countries are the ones that make up the 88% of Hispanic traffic, in cities the 10 main cities barely reach an 33%, which suggests that in the Hispanic context there is a high traffic of the cities that are not capital. There is also a dirty caused in Tegucigalpa, which is not a bigger and connected city than Guatemala but being the place born in this country, it brings a lot of traffic for topics scattered on Google.hn ranging from loving advice to pornography. Yes it calls the attention Lima where the translator of eGeomate resides and that should not cause a distortion in the statistics, but where there is an interesting euphoria for the geospatial subject and also because this country has a characteristic of migration of the field to the city little less than disastrous
7 would be from Lima
4 from Mexico City
4 of Bogotá
4 of Madrid
4 of Santiago
2 from Buenos Aires
2 of Barcelona
2 of Tegucigalpa
2 of Quito
2 of Caracas
67 would come from other cities in the world
If it were by browser:
40 would still use Internet Explorer
29 would be lovers of Firefox
27 already passed to Chrome
2 would use Safari
1 would use Opera
1 would be the surplus that uses little extended options like Mozilla compatible agent on mobile, Android browser, Opera Mini, Internet Explorer with Chrome frame and RockMelt.
Here we see how Chrome keeps gaining visitors, That's what I said a few days ago I think in a couple of years will have overcome Firefox not because this loses visits but because Internet Explorer will be barely in an 28%.
In the case of interests by which users arrive:
15 would do it by AutoCAD
8 by Google Earth
6 by UTM coordinate themes
6 by ArcGIS or ArcView
3 by Microstation
2 by gvSIG
36 would do it by different combinations, among which these topics are included but not with the direct word in the search phrase. From this I first made an article comparing the Value of the software In the traffic of Geofumadas.
If it were by operating system
Here we see that Mac is still a platform for minorities, although there is no Hollywood movie where a manzanita is not shown. It is also seen that mobile traffic is a minority.
95 would use Windows
2 would use Macintosh
2 Linux
1 would use a mobile operating system
The distribution of this 1 using mobile platforms
This side is notorious as Mac dominates the mobile market, if we consider that they are 100 people, 72 use Apple devices if we add iPad, iPhone and iPod. If the trend is that the desktop is going to move to mobile tools, gadgets and we will depend more on the web, then the next giant will be Mac, it's a matter of time and legacy of Steve Jobs.
45 would do it through an iPad
23 by means of an iPhone
18 using an Android
5 BlackBerry
4 surprisingly using an iPod
4 using a SymbianOS
1 still uses Nokia
The rounding does not even reach 1 the rest is distributed among those who use Windows Mobile, Sony and Samsung.
If I measure myself:
I am one of three that connect from a country listed in the first list.
One of two coming from a city on the second list
Unlike the readers, I am the writer and currently I use AutoCAD as much as Microstation, gvSIG more than ArcGIS, Google Earth / Maps ... every day.
One of 27 using Chrome as browser
One of 95 that use Windows, although I also connect a lot from the mobile.
One of the 45 using iPad.
The article also reminds us that we are privileged people who connect from connected cities, if we appear on the list. If our operating system, country or city does not appear there, much more privileged. In many cases one of the geographical minority that uses software and hardware of the majority, this is what happens to me.